What is an Oblate?
A Benedictine oblate is a layperson who seeks to grow spiritually in union with Christ and to live and pray according to the values and principles set out in the Rule of St. Benedict in association with a particular Benedictine monastery, such as the Abbey of St. Walburga. The Abbey welcomes as oblates Christian men and women of all denominations and all walks of life.
Becoming an Oblate
Our process for becoming an oblate has been revised because of the COVID-19 pandemic. We are still working on details. If you are interested in joining, contact the Abbey Oblate Director at aswoblates@gmail.com, or by calling 970-472-0612.
You will be invited to attend meetings at one of our regional oblate groups to get acquainted.
The stages of formation are: Inquirer (attends general and regional meetings when possible), then Novice (formally enrolled for about one year of formation). During formation, one studies the Rule of St. Benedict, Benedictine values and spirituality, with a specific focus on the practice of daily lectio divina (prayerful reading of Scripture) and praying a portion of the daily Liturgy of the Hours.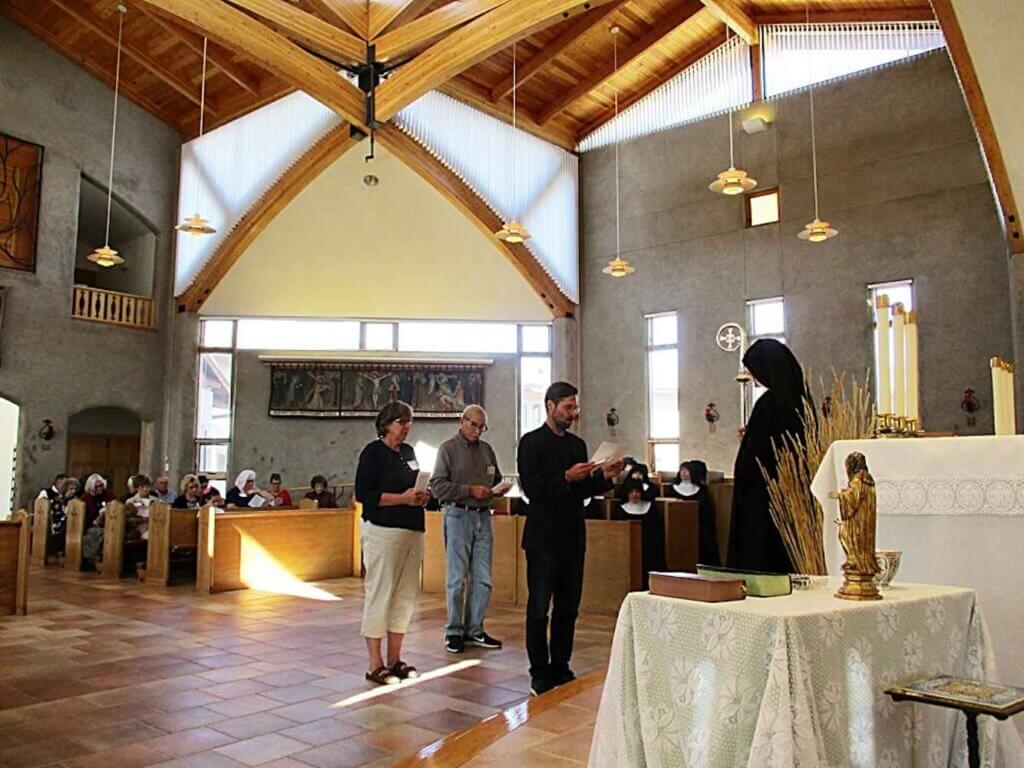 At the end of formation, the oblate novice makes a commitment to seek God under the spiritual guidance of the Rule of St. Benedict, to make a daily practice of lectio divina and praying a portion of the Liturgy of the Hours, and to try to live according to the values set forth in the Rule (pursuit of conversion of heart, creating community in one's own circumstances [e.g. family, workplace, interest groups, local Church], hospitality [i.e. welcoming others into one's life in ways appropriate to one's particular way of life], and serving others in whatever way is possible).
The root meaning of "Oblation" is something offered to God. In the Benedictine process of Oblation, or self-offering, we mark the key moments with ceremonies. But these ceremonies are not graduations. St. Benedict says that Benedictine life is a school in which we are enrolled as lifelong learners. Through our study and internalization of the Scriptures and the Rule, and the other guides God supplies us with along the way, the Spirit of God teaches us how to offer oneself "as a living sacrifice, holy and pleasing to God, your spiritual worship" (Romans 12:1).
Would you like to read more?
See the Abbey oblate program blog online at http://walburgaoblates.blogspot.com
Check out Mother Maria-Thomas' Oblate Study Guide, sold in our Abbey Gift Shop (contact giftshop@walburga.org)