Mother Maria-Michael Newe, O.S.B.
Mother Maria-Michael was born in Norwalk, California, and was blessed with a twin sister, Terri. They were raised in Whittier, CA, along with two older sisters, two younger sisters and a brother. On October 7, 1976, at the age of 17, Mother Maria-Michael entered the Convent of St. Walburga in Boulder, Colorado. After many years of faithful service to the community as the farm manager, Mother Maria-Michael was elected the second abbess of the Abbey of St. Walburga (which by that time had moved to Virginia Dale, Colorado) in 2003. She was installed as abbess on September 6 and celebrated her Silver Jubilee (25 years of monastic profession) two days later. Mother Maria-Michael took for her abbatial motto, "In Manus Tuas Domine" (Into Your hands, O Lord)—an expression of faith and abandonment into God's hands. She has shepherded the community as abbess with a joyful spirit and firm, yet loving hand. She is known among her Sisters for her mercy, deep love for Christ, and her insight into the human heart.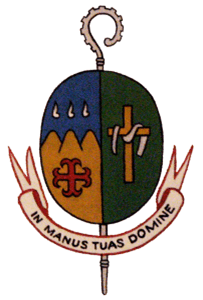 Abbatial Coat of Arms
On the left side of the coat of arms is the arms of the Abbey. The blue sky over three golden mountains represent the majestic region of Colorado where the Abbey is located, at the foot of the Rockies. On the mountains is displayed a red "moline" cross which is traditionally used by the Benedictines, reflecting that the community follows the Faith and the Rule of St. Benedict. Above the mountains are seen three silver drops, symbolizing the oil that miraculously flows from the bones of St. Walburga. Mother Maria-Michael's personal arms are displayed on the right side of the coat of arms. The green background is a play on her family name, Newe, for in the green of the springtime all becomes "new" again. The gold Resurrection Cross with a silver drape reflects Mother's profound belief that it is through the Cross of the Risen Christ that all faith and life is given meaning.