05/31/2016
This past Sunday we celebrated the Solemnity of the Most Precious Body and Blood of Christ — still known popularly by its former Latin name, Corpus Christi. We took advantage of the beautiful Latin Vespers and Mass propers of the day's liturgy to schedule our annual Gregorian Chant Workshop for the days preceding the feast.
We had fifteen chanters this year, ranging in age from 10 to 83 years old, and coming from New Mexico, Montana, and even Minnesota as well as from Colorado.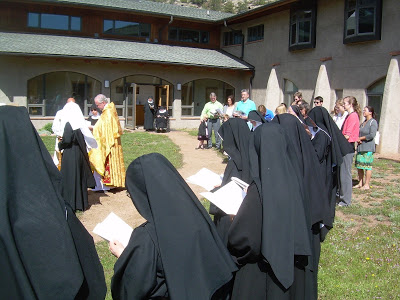 The weather smiled upon our Corpus Christi procession, with cool temperatures and fluffy white clouds scudding through the blue Colorado sky to give some relief from the sun, especially for those of us dressed in black. We sang our way around the Abbey building, pausing to pray at four altars which had been tastefully decorated by teams of Sisters with textiles, statues, and flower arrangements.